Martha Stewart stands inside a home that she helped decorate in Stapleton, Colo.(Photo by Bear Gutierrez)
Martha Stewart is an American media mogul best known for her television show and magazine, Martha Stewart Living.
Martha Stewart was born on August 3, 1941, in Jersey City, New Jersey. Stewart rose to prominence as the author of books on cooking, entertaining and decorating. She then expanded her brand to include a magazine and television program, serving as CEO of Martha Stewart Omnimedia. Stewart resigned her post in 2002, following charges of insider trading of which she was subsequently convicted.
Lifestyle Guru
Lifestyle guru and businesswoman Martha Stewart was born Martha Kostyra, on August 3, 1941, in New Jersey. The second of six children, Stewart grew up in Nutley, New Jersey, a working-class community near New York City. She worked as a model from the age of 13, appearing in fashion shows as well as television and print advertisements.
Stewart attended Barnard College in Manhattan, where she earned a degree in European and architectural history in 1962. While at Barnard, she met Andy Stewart, a Yale law student, and the two married in 1961. Six years later, after the birth of their daughter, Alexis, Stewart went to work as a stockbroker for the boutique firm of Monness, Williams, and Sidel. She worked on Wall Street until 1972, when the family moved to Westport, Connecticut.
After the Stewarts restored the 19th century farmhouse they had bought, Martha decided to focus her energy on gourmet cooking, having trained herself by reading Julia Child's Mastering the Art of French Cooking. She started a catering business in the late 1970s, and soon became known for her gourmet menus and unique, creative presentation. Within a decade, Martha Stewart, Inc., had grown into a $1 million business serving a number of corporate and celebrity clients.
Stewart expanded into the world of publishing with her first book, Entertaining, which became a bestseller and was followed in quick succession by such publications as Martha Stewart's Quick Cook Menus, Martha Stewart's Hors d'Oeuvres, Martha Stewart's Christmasand Martha Stewart's Wedding Planner. Her newfound fame took its toll on her personal life, as her marriage to Andy Stewart ended in divorce in 1990, after a bitter three-year separation.
In 1991, Martha Stewart, Inc., became Martha Stewart Living Omnimedia, Inc., with the release of her magazine, Martha Stewart Living. Stewart's lifestyle empire soon grew to include two magazines, a checkout-size recipe publication, a popular cable television show, a syndicated newspaper column, a series of how-to books, a radio show, an Internet site and $763 million in annual retail sales.
On October 19, 1999, America's most famous homemaker returned to Wall Street to see her company through its initial public offering on the New York Stock Exchange. At the end of the day, the price of each of 72 million shares in Martha Stewart Living Omnimedia, Inc. had jumped more than 95 percent and raised almost $130 million. Stewart herself controls 96 percent of the voting shares in her company and is worth $1.2 billion.
Insider Trading Scandal
In June 2002, Stewart again made financial headlines, this time for rumors of insider trading. Stewart was under investigation for selling hundreds of shares of ImClone Systems just prior to the Food and Drug Administration's refusal to approve the company's new cancer drug. The value of the stock dropped markedly after the FDA's announcement. Due to the investigation, Stewart resigned from the board of directors of the New York Stock Exchange in October, just four months after she had joined.
In June 2003, a 41-page indictment charged Stewart with securities fraud, obstruction of justice, conspiracy and making false statements to prosecutors and the FBI. She pleaded innocent to all charges and stepped down as chair and CEO of her Omnimedia empire. In February 2004, a judge dismissed the securities fraud charge, but a jury found her guilty of conspiracy, obstruction of justice and two counts of making false statements. Martha Stewart was sentenced to five months in prison and fined $30,000 that July. She served the first part of her sentence at a minimum-security prison in Alderson, West Virginia, in October 2004.
Later Career
Stewart was released from prison on March 4, 2005, just after NBC announced she would host two new shows: a daytime talk and how-to show and a spin-off of the reality show The Apprentice produced by Mark Burnett and Donald Trump. Stewart finished her sentence by serving five months of house arrest at her home in Bedford, New York.
While Martha Stewart's version of The Apprentice failed to attract enough viewers, her self-titled syndicated daytime program has been on the air since 2005. The company she established, Martha Stewart Omnimedia, continued to grow in new directions. The business added several non-Martha Stewart publications, including Everyday Food and Body + Soul.
Professional Woes
Stewart's syndicated show moved to the Hallmark Channel in 2010, but it failed to develop enough of an audience to sustain the expensive-to-produce program. Hallmark canceled the show in 2012 because of low ratings. That fall, Stewart launched a new series on PBS called Martha Stewart's Cooking School.
In 2013, Stewart found herself inside a courtroom once again. Her company was engaged in a lawsuit with the department store chain Macy's over a contract dispute. Macy's sued Stewart and its retail rival J.C. Penney over Stewart's plan to open Martha Stewart brand boutiques inside Penney's stores.
Hank Brown, former United States Senator and U.S. Representative for the state of Colorado stands for an executive portrait outside his office in Downtown Denver. Brown was also the past President of the University of Colorado and recipient of the National Western Stock Show 2008 Citizen of the West Award selected from community leaders who exemplify the spirit and determination of a western pioneer. These modern day pioneers are honored for their economic and philanthropic endeavors in the West. (Photograph by Bear Gutierrez)
Annalists for S&P Global join in for an office portrait session where we photographed and captured portraits for 40 individuals. S&P Global provides intelligence that is essential for companies, governments and individuals to make decisions with conviction. (Photograph by Bear Gutierrez)
Jason Johnson, entrepreneur and a life and business coach with roots in therapy and a strong passion to help others stands for a professional business portrait along Brighton Boulevard in Denver, Colo. (Photograph by Bear Gutierrez)
Roberta Robinette, President, AT&T Colorado, has more than 20 years of experience in government affairs and the telecommunications industry, serving as director of government affairs for AT&T in Colorado and Wyoming from 1998 to 2001. She has worked as a state lobbyist for RKR consulting since 2001, covering a wide-range of issues, from health care to fire safety to tax policy. (Photograph by Bear Gutierrez)
Barack Obama stands for a professional portrait in Elkhorn, Indiana, to be displayed on a special wrap-around section for the Rocky Mountain News as he prepared to accept the nomination at the Democratic National Convention in Denver, Colo. for President of the United States. (Photograph by Bear Gutierrez)
About President Barack Obama
Barack H. Obama is the 44th President of the United States.
Few presidents have walked a more improbable path to the White House. Born in Hawaii to a mother from Kansas and a father from Kenya, Obama was raised with help from his grandparents, whose generosity of spirit reflected their Midwestern roots. The homespun values they instilled in him, paired with his innate sense of optimism, compelled Obama to devote his life to giving every child, regardless of his or her background, the same chance America gave him.
After working his way through college with the help of scholarships and student loans, Obama moved to Chicago, where he worked with a group of churches to help rebuild communities devastated by the closure of local steel plants. That experience honed his belief in the power of uniting ordinary people around a politics of purpose, in the hard work of citizenship, to bring about positive change. In law school, he became the first African-American president of the Harvard Law Review, then he returned to Illinois to teach constitutional law at the University of Chicago and begin a career in public service, winning seats in the Illinois State Senate and the United States Senate.
On November 4, 2008, Barack Obama was elected the 44th President of the United States, winning more votes than any candidate in history. He took office at a moment of crisis unlike any America had seen in decades – a nation at war, a planet in peril, the American Dream itself threatened by the worst economic calamity since the Great Depression. And yet, despite all manner of political obstruction, Obama's leadership helped rescue the economy, revitalize the American auto industry, reform the health care system to cover another twenty million Americans, and put the country on a firm course to a clean energy future – all while overseeing the longest stretch of job creation in American history. On the world stage, Obama's belief in America's indispensable leadership and strong, principled diplomacy helped wind down the wars in Iraq and Afghanistan, decimate al Qaeda and eliminate the world's most wanted terrorists, shut down Iran's nuclear weapons program, open up a new chapter with the people of Cuba, and unite humanity in coordinated action to combat a changing climate.
In times of great challenge and change, President Obama's leadership ushered in a stronger economy, a more equal society, a nation more secure at home and more respected around the world. The Obama years were ones in which more people not only began to see themselves in the changing face of America, but to see America the way he always has – as the only place on Earth where so many of our stories could even be possible.
Barack Obama and his wife, Michelle, are the proud parents of two daughters, Malia and Sasha.
Environmental portrait of author Ausma Zehanat Khan at the Millennium Bridge in Denver, Colo. Ausma Zehanat Khan is the author of The Unquiet Dead, published by St. Martin's Press/Minotaur Books, and winner of the Barry Award, the Arthur Ellis Award and the Romantic Times Reviewers Choice Award for Best First Novel. Works in her critically acclaimed Esa Khattak/Rachel Getty mystery series include The Language of Secrets, A Death in Sarajevo, Among the Ruins, and A Dangerous Crossing. In A Deadly Divide, the fifth and latest book in the series, Detectives Khattak and Getty investigate a mosque shooting in Quebec, and explore the after-effects of a rising tide of Islamophobia in both the province and the nation. The Khattak/Getty series has been optioned for television by Lionsgate. (Photograph by Bear Gutierrez)
Tonya Lipscomb, Founder, Chief Technology Officer, Vice President of Applications Development at Inscripta, Inc. in Boulder Colo. Inscripta is a gene editing technology company dedicated to creating the tools needed to revolutionize how we feed, fuel, and heal humanity. This includes developing a family of CRISPR enzymes (called MADzymes), bespoke nucleases for researchers and commercial partners, and a full suite of gene editing tools (software, instruments, and reagents) that will significantly increase the speed and efficiency of precision gene editing. (Photograph by Bear Gutierrez)
James O'Connell, Editorial Director at S&P Global Platts, Responsible for Platts' Americas Energy News business. Main remit includes managing a 30-strong team of journalists, setting the content strategy for half a dozen publications such as Oilgram News and Gas Daily, talent and succession management, integration of staff from former Gas & Power and Oil silos, liaising with sales & marketing senior management, analysis of competitive position, product enhancement and Denver office executive lead (150 staff). (Photograph by Bear Gutierrez)
Chris Olsen, Public Affairs for AT&T in Colorado, stands for a portrait on the Millennium Bridge in Denver, Colo.. Builds and leads communications campaigns that win. Proven track record leading brand, messaging, legislative, reputation strategies and crisis communications across twenty states. Assistant Vice President of Public Affairs for a Fortune 10 company. Develops and aligns multiple strategies, tactics and messages that accomplish reputation, policy and client goals among diverse audiences. (Photograph by Bear Gutierrez)
Jennifer Price, Director of External Affairs at AT&T-Colorado, stands for an executive portrait at the Colorado Convention Center in Denver Colo.. (Photograph by Bear Gutierrez)
Kathleen Staks, Director of External Affairs Guzman Energy, LLC., stands for an executive portrait in the Colorado Office of Energy. (Photograph by Bear Gutierrez)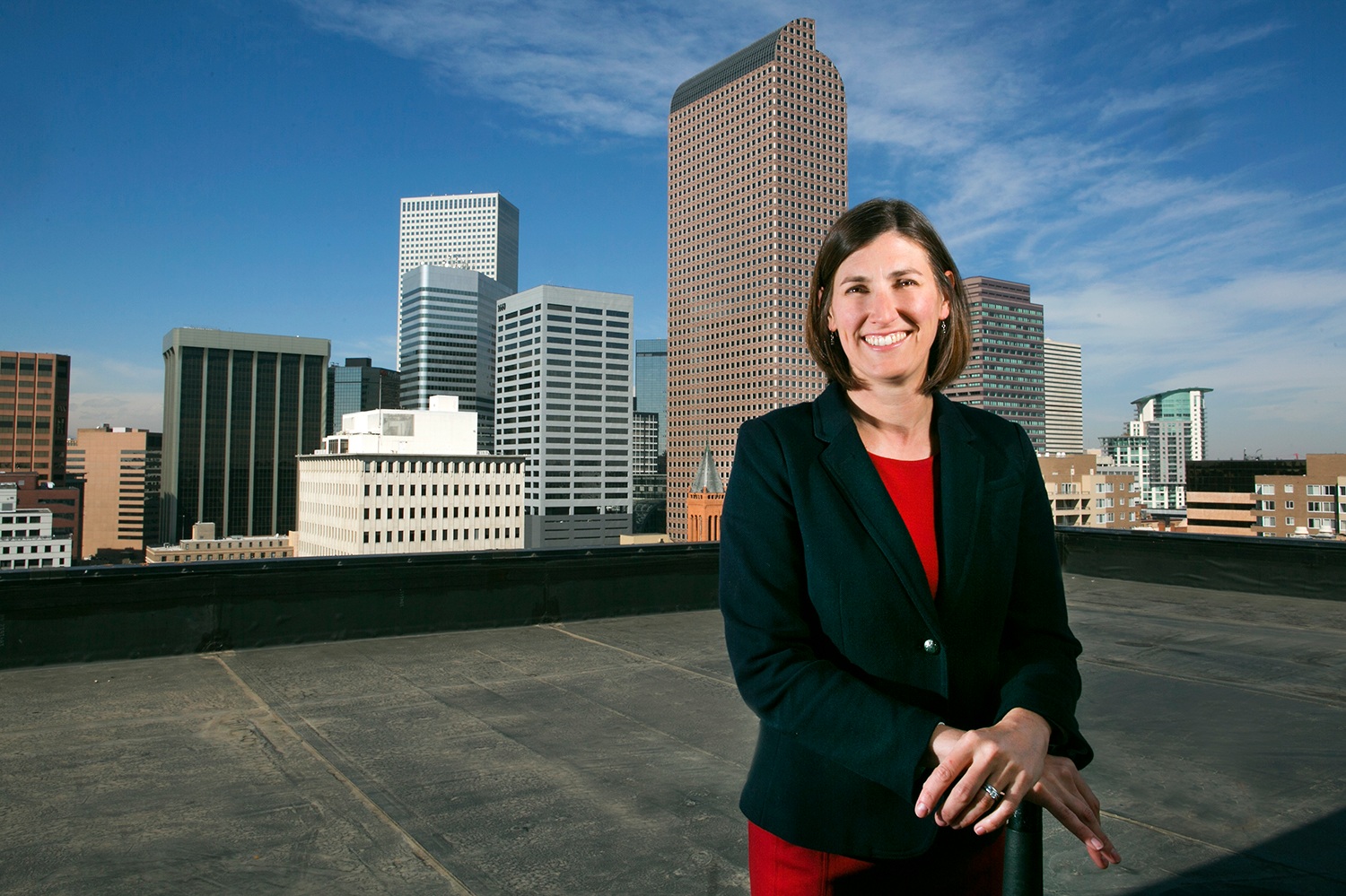 Kathleen Staks, Director of External Affairs Guzman Energy, LLC., stands for an executive portrait in the Colorado Office of Energy. (Photograph by Bear Gutierrez)